On Sunday I had the SDR running monitoring band 1 and then we had a visitor so left the SDR on and it looked like this.
That picture shows how band 1 looks like all the time and where the cursor is that is the Buxton Beacon.
Anyway an hour later went back to the SDR and it looked like this.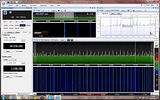 I thought what's going on here and moving up and down the band was the same the northern air hospital radio STL was visible ok but listening it was just noise same with Morlands Radio STL.
So first I switched off all power in here as the SDR is running on my laptop it runs off battery anyway switching off power QRM goes so switching stuff back on one by one I found it was the router.
I have had no problems with my router regarding QRM so I thought right take all the Ethernet cables out of the router took the first one out and QRM goes.
This cable is the feed to the bedroom and is plugged into my wifes laptop as where that is positioned the Wifi is iffy so plug cable back QRM back go in the bedroom and unplug the laptop there QRM goes confirming the laptop being the cause so I thought.
When I plugged the cable back in the laptop no QRM and no amount of fiddling with the cable would bring the QRM back.
So I think maybe a bad connection on the plug/socket could be caused by dirt on the contacts or something but the QRM has not returned yet oh and it did not affect band 2 in any way just the SDR I did check the TV but that didn't show anything only noise.
Andy